Let's discover Big Data and Machine Learning in the contex Cloud Solutions!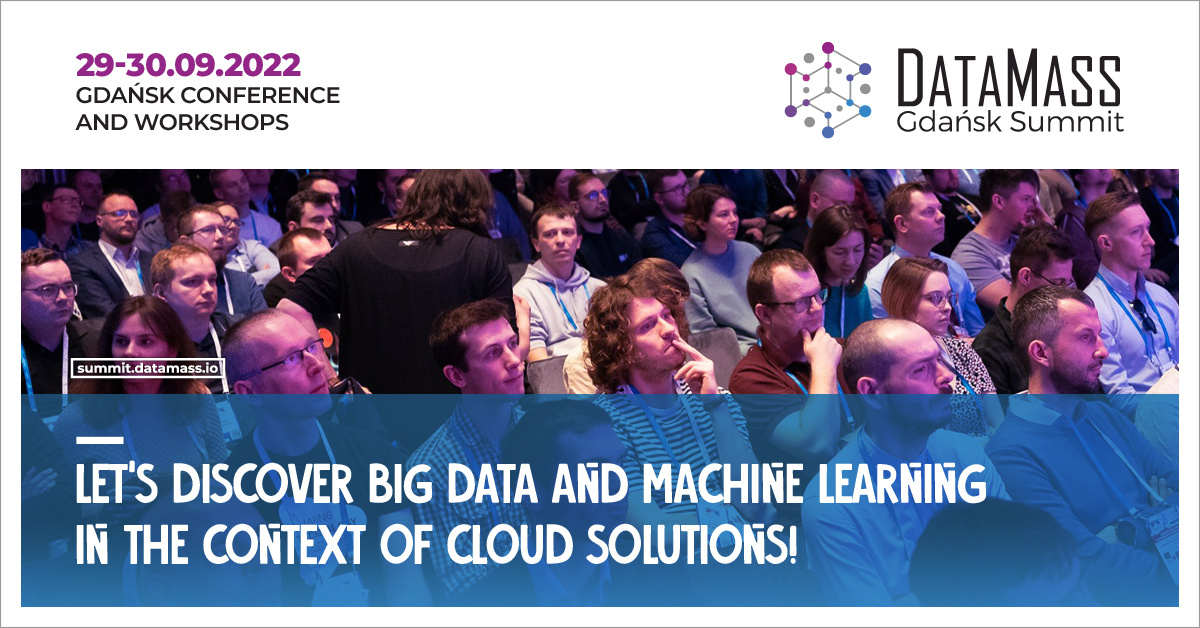 Do you want to know how to use the cloud to solve Big Data, Data Science, Machine Learning and AI problems?
The next edition of the two-day DataMass Summit conference in Gdansk is coming up!
Don't wait, join us today! September 29 is a day of workshops led by top practitioners, as well as an evening networking event! On September 30, on the other hand, it's an all-day onsite conference, with a rich program of speakers - from prominent experts in Big Data, Data Science, Machine Learning and AI, all in the context of cloud solutions!
Improve your knowledge with our speakers:
Running Apache Flink in any cloud environment - Márton Balassi, Apple
Data Infrastructure in a Multi-Cloud environment – Wouter De Bie, Datadog
Spark vs. Bigquery vs. Trino: Shopify's journey of SQL transformations at scale – Kate Darnell, Shopify
Bank Analytics in the Cloud – Łukasz Hunka, PKO Bank Polski
Engineering Risk Assessment - how to measure the risk in enterprise IT infrastructure – Alicja Grochocka, Investment Banking Sector
Data engineering at the scale of PepsiCo eCommerce, 3 years of experience – Pierre De Leusse, Dmitry Ulyanov, PepsiCo
IoT as a data pipe between the physical world and the cloud AWS - Lukasz Malinowski, Amazon Web Service
Breaking the stormy antipattern - from bad design to cloud native on Beam - Radosław Stankiewicz, Google
And that's not all! Visit our website - browse the agenda, meet our speakers and find out what else we have in store for you this year!
Join the conference participants and take advantage of the promotion - with the code "BDPASSION10" you will receive a 10% discount! Also, we highly recommend you to register your whole team - if you register 2 or more people, you will receive a 20% discount!
Application for participation here»>
See you in the last week of September in Gdansk!